This week I wanted to introduce the children to taking notes from three different sources and putting them into a spider diagram or key word outline, in preparation for writing an essay.  This is a useful in three ways:
The children learn to read different accounts, written in different ways, with an emphasis on different aspects of the topic.
They absorb a surprising amount of information when they have to read three different accounts
They begin to learn the skill of speed reading and picking out the most important facts
I decided not to require them to actually write the essay because I really wanted them to concentrate on learning the particular skill of note taking from various sources without becoming overwhelmed by an essay also.  During our study of Marco Polo I had introduced the idea of highlighting keywords from passages and then making a note of them in the prewriting organization tool.  They had found it quite easy, so I wanted to expand on the idea but use three different sources of information instead of just one.
The topic was simply the Qin dynasty and I used this, this and this website for my information. The plan was for me to walk the children through the procedure and do it all together.  I also found a mind map template which we tried out together:
This was a great exercise, and worked so well with me sitting alongside them.  They were able to see how logical and simple it was to pre-write plans such as these.  I will do this a few times with them until they are confident and then I'll require an essay out of them!
There were many inventions created around the Qin dynastical period.  Each we studied to a greater or lesser degree:
Gunpowder:  Using the same website, they read about gunpowder.  Saltpeter was known to the early ancient Chinese and there is strong evidence of the use of saltpeter and sulfur in various largely medicinal combinations.  Although it would be many years before it was developed into a gun powder for entertainment (fireworks) or weaponry.  We had a bit of light-hearted fun at the dinner table watching some gunpowder in action, in the form of mini table top fireworks.  Yes, I am just a great big child.
Currency:  It was during the Qin dynasty that all currency was standardized to encourage trade among the states.  The children cut and pasted some coins and wrote notes around them from information garnered from their many books.
Chinese coins were cast which made them easy to forge, which is exactly what we tried to do!  The children used plasticine to make the molds and plaster for the coins.  They painted them bronze adding Chinese characters, ensuring they had a square hole in the middle so they could be kept on a chain with a person's keys:
For more crafty ideas see:
Terracotta Warriors:  Emperor Qin's burial tomb full of terracotta soldiers is well-known and the children had written a short report on this particular emperor and his soldiers last year, so I didn't particularly feel the need to look deeper.
Great wall of China: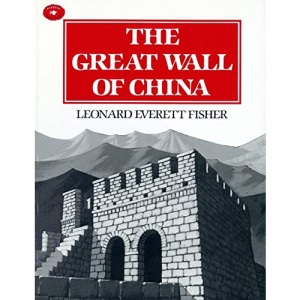 The children reread the above book and using resources recommended at this site the children learnt a little more about the great wall as it was during the Qin times.  There are many, many great resources here and I let the children browse for as long as they wanted.  The wall was at its most basic during the Qin, built only with materials found in the nearby vicinities, rather than the brick used during later times.  The labour required to do such work was immense and greatly effected the lives (and deaths) of a multitude of people.  Last but not least I had the children read a love story set around the building of the Great wall of China, which gives a good idea of the effects it could have on lives.
Writing on silk:  As we hadn't done much on silk production, the children found out some information from our ancient China books.  Writing up until the Qin period had been done onto hard surfaces such as bamboo, tortoise-shell and bone.  As these mediums were heavy and cumbersome to carry around, the richest of society turned to silk as an early form of 'paper'.  Using lacquer (we used black nail varnish) we wrote some Chinese characters onto the silk.  We had used special Chinese ink when we did our brush calligraphy last week, and we will be using it again when we do some printing so I wanted the children to experience a different type of writing fluid.  Many vessels have been found dating from this period bearing brush written lacquer inscriptions, proving lacquer was indeed used like ink:
Noodles:  As noodles were said to be invented during the Qin dynasty we had a noodle based dinner for our special Chinese meal:
Next week we are looking at the Han dynasty and their invention of paper.