Source
I know I've said it before but I LOVE our literature studies.  I read Tusiani's version of Dante's Divine Comedy aloud to prepare the children for a 10 week study of the Inferno, concentrating on Canto I with Dante the pilgrim becoming lost in the dark forest.  Studying the Divine Comedy with 10 and 11 year olds is a risk, and to be honest I was a little nervous.  Would they understand it?  Would they even be interested?  Would it grasp them as it has me?  I needn't have worried.  From the first page they were enthralled.  It helped they knew of most of the characters in the book, as they are all people historical to Dante, that we ourselves had studied at some point or another.  In fact, I think it was a key point in their understanding.  Possibly if these characters had not been familiar to them, they would have had to have worked harder to understand the inferences.
As always, I sought out both an adult and a child's translation.  Dante contains adult themes, so the closest I could get was a young adults version.  It was perfectly easy to read and very interestingly written, and any adult themes which came up I could tackle at the time, according to what I felt comfortable with them knowing.  You know you're on to a winner when your children beg to read 'just one more chapter!'  We used this free study guide to help with anything we were unsure of.  I did not allow my children to see a copy of the study guide because of the inevitable adult themes and the blunt way in which they were handled.  It was primarily for my own use as I hadn't studied Dante before and I really wasn't that sure I would be able to understand it!
These were the two books we used: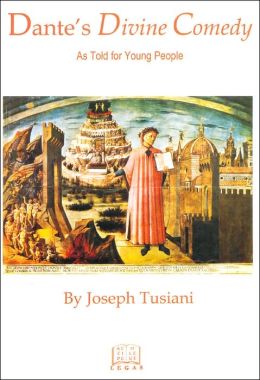 Before I read the book I let the children watch this Youtube video.  I know it probably isn't to everyone's taste, but they had loved the Beowulf video of a similar ilk last year and I thought it would be a great introduction to Dante as well as showing them that literature from the middle ages could be kind of cool in the 21st century.  What can I say?  It appeals to my rather vivid imagination! (wait until you hear the video I found of Canto I rapped.  Every body has to hear Dante rapped at least once in their life time!)
Over the summer I read a book aloud to the children by James Burge called Dante's Invention:
This is a biographical tale of the parallels between Dante's world and his imagined world of the Comedy.  It is so incredibly well written and a joy to read.  It had been my intention to read it myself and share all I had learnt with the children but I enjoyed it so much I wanted to share it with them in its entirety.  We've not finished it yet and there have been bits I've had to censure but not enough as to ruin the story for them.  I think it gave us a real appreciation of why and how the Divine Comedy was written and it definitely added something to our studies.
Alongside the Dante studies, we will be doing some grammar work linked to his writings and more specifically two picture studies, one of Dante's Inferno by Botticelli and the other portraying the three beasts, also by Botticelli.  I have some rather unusual assignments for the children to complete, which whilst not my usual hands on type activities, I'm hoping they will appeal to the children's imaginations!