My plans for this week were to explore 1800's laundry methods and to finish up projects from the last few weeks.  I'll post next week on the finishing up project (we actually need to finish them before I can post – ahem), but for this week it was all about the laundry.
Here is the outside of the house at the start:
And here it is this week:
The inside at the beginning:
And now.  The kitchen area:
The living area:
This week was all about the laundry: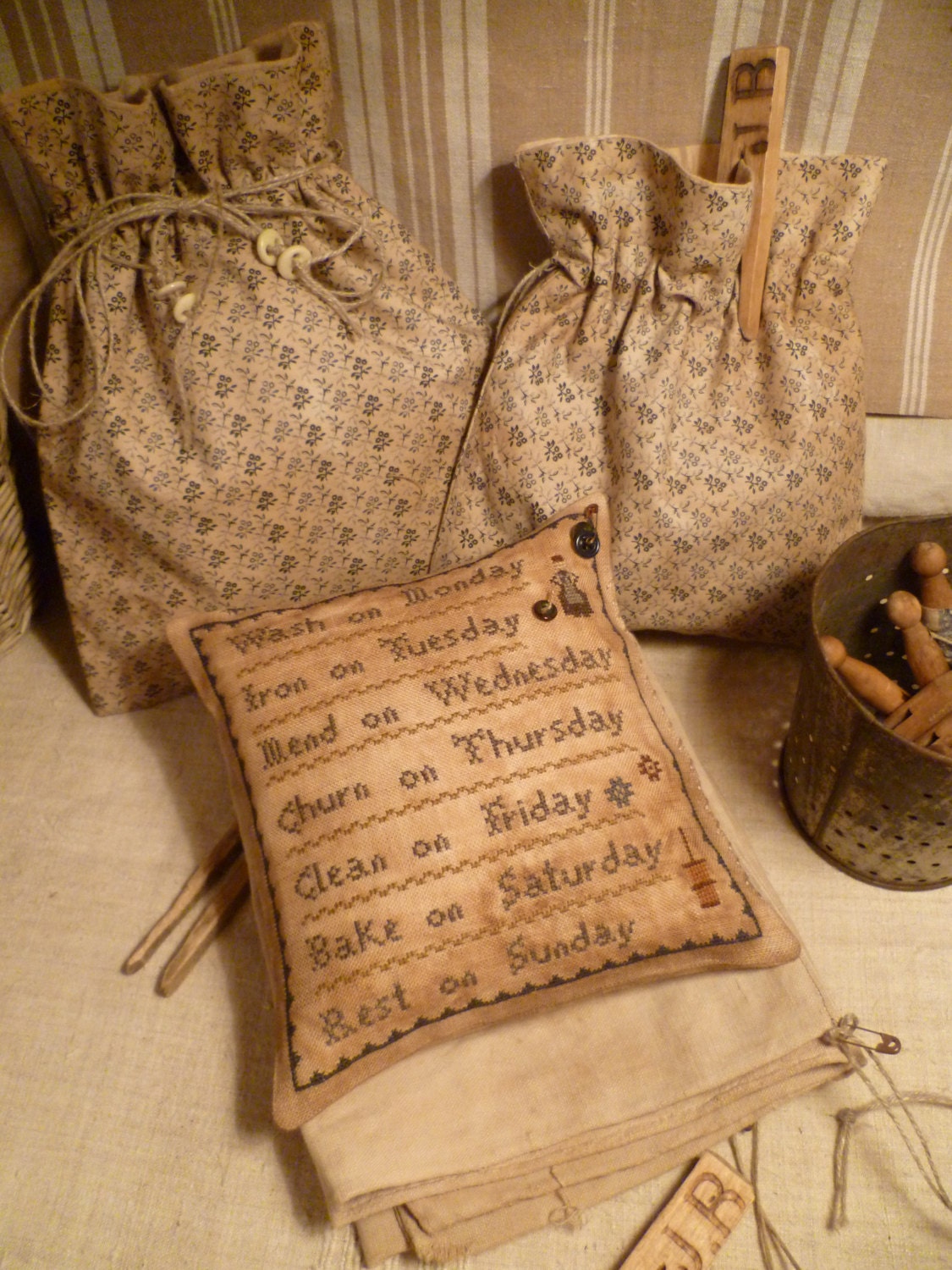 As Ma said "Wash on Monday, Iron on Tuesday, Mend on Wednesday, Churn on Thursday, Clean on Friday, Bake on Saturday, Rest on Sunday."
Well, we've mended (or sewn, and possible not on a Wednesday):
We've churned (but not on a Thursday):
We've baked (everyday, it has seemed at times):
And we have been having a bit of fun with cleaning since our new brush came through the post:
But now it is time for washing.  I had been keeping this week as a surprise for the children.  Although we have not needed to spend much money all summer, buying a wash board was something I was always going to do.  I had been looking for one all summer that would be inexpensive enough for us to afford.  Most were coming in at £30, so I was delighted when I found one on Amazon for £11.99 P & P included.  The potential problem was it was coming from America and I wasn't sure it would arrive in time.  Imagine my joy when it arrived just 10 days after ordering! And here it is pictured with some wooden clothes pegs:
So I was set to put together my fun laundry surprise for the children.  We had already made some laundry soap balls a couple of weeks back:
And my mum had kindly given us a huge old fashioned pan she used to wash my nappies in when I was a baby:
I had sewn a laundry bag (which I filled with dirty doll's clothes).  This was hung on the upstairs pegs T11 had made:
I also made a matching peg bag:
When put together it all looked so inviting that the children rushed to get dressed up, because of course one can't do 1800's laundry in 2000's clothes, and soon they were entrenched in the long process of doing the laundry.  Oh, and this wasn't on a Monday.  We're such 1800's rebels.  Here are the bits and bobs before they got their hands on them:
Using this site we read about how laundry was done in Laura's time.  First they collected water.  They had already determined that water collection would occur using the enamel container they had somehow managed to persuade me to part with, which was kept under their kitchen sink:
Using the stove that T11 had made, they 'heated' the water (in reality T11 obtained some hot water via our hot tap!), adding their soap balls and stirring until all the soap was dissolved:
Meanwhile, the girls brought out their dirty clothes bag, pegs and wash board and proceeded to get everything organised for a day of laundry.  T11 had kindly screwed in some hooks to the side of the house for this purpose, so everything would be to hand.
Once hot they asked T11 to move the pan to the outside where they were planning to do their laundry.  We had been given a big chest years ago which was falling apart when we got it, but was now unusable.  We turned this upside down and placed it next to the house.  It was the perfect size to use as a laundry table.  T11 carried the big pan of hot water there:
They then went to work, adding the clothes:
More soap was used, along with the washboard, to remove stubborn stains:
Of course they all had to get in on the action:
After which, T11 changed the water, to fresh clean water, in which the clothes were rinsed.  We don't own a mangle so the children rung out the clothes just using their hands:
And then hung them out on the washing line T11 had made for them, attaching rope from the house to the nearby apple tree:
It was such fun to watch their clean clothes waving about in the gentle breeze.  A good job jobbed!
Just two weeks left and we'll have finished our summer of Little House living.
For all other posts: http://angelicscalliwags.com/the-little-house-on-the-prairie/
I'm linking up to some of these great parties.