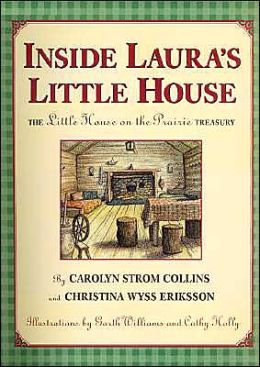 This is called a Little House on the Prairie Treasury and that is exactly what it is.  With 104 pages of all the extra information about frontier life you could possibly want, in addition to many extra crafts, recipes and songs, this is a book you will keep coming back to.
The first chapter offers a synopsis of 'The Little House on the Prairie' book, alongside photos of a replica cabin as well as a map and timeline of events.
The second chapter entitled 'Going West' gives information about the why's of Pioneer migration, and again gives a map of the Ingalls' journey west.  It includes recipes for Breakfast Bacon and Ma's pancakes; instructions how to make Mary and Laura's nightcaps as well as Ma's soft soap and to top it of gives the words and accompanying music to the prairie song 'Oh! Susanna'
Chapter three, focussing on the Little House, describes how Laura's house was built and furnished.  It includes recipes for Ma's jack-rabbit stew and her dumplings, as well as instructions on how to make a willow bough brush.  Again, right at the end of the chapter are the words and music to 'Old Dan Tucker'.
And so it goes on for another six chapters, each full to the brill of interesting information, recipes, songs and many, many activities.  Each recipe we have tried has worked beautifully, with the instructions simple enough for my 10 year olds to understand.  The crafts are, in the main, different from all the other Little House books I have which contain craft ideas, and are well explained and fun to do.
The very last chapter is a little different from the rest for it is all about the real Ingalls family and what happened to them all.  It will be an appropriate conclusion to our Little House studies, bringing them to their natural closure.
I really do recommend this book.  Owning and using it has made our studies all the richer.