My two younger daughters have been enjoying art lessons from the Entire Level II from ArtAchieve.  ArtAchieve is a company which offers cultural art lessons based in a country of the world and comes with extensive extra curricula ideas for extending the student's learning past just an art lesson.  We were blessed to be on this review last year when I reviewed the Entire Level I.  We loved it then, and we have loved it this time around too.
What is ArtAchieve?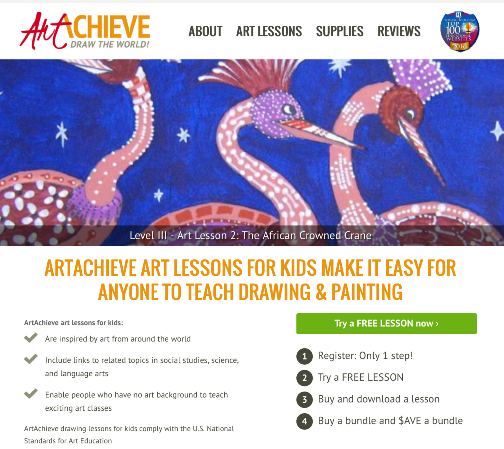 ArtAchieve is the brain child of homeschool father John Hofland.  There are five levels each with between 8 and 14 lessons.  These can be bought either separately or by the level.  Level I is appropriate for ages 5 and up, Level II for ages 7 and up, Level III for ages 9 and up, and Level IV for 10 and above.  Last year I reviewed Level I, this year I will be reviewing Level II.  Level I was pitched perfectly for my then five-year old, who I think is fairly artistic.  Level II, likewise has been a good fit for my now six-year-old and her eight year old sister.  I can definitely say that the Level II lessons are moderately harder than the Level I lessons.
(For an extensive look at the nuts and bolts of each lesson, do take a look at last year's review)
Level II lessons are as follows:
Level II-Art Lesson 1: The Swedish Dala Horse
Level II-Art Lesson 2: The Korean Wedding Duck
Level II-Art Lesson 3: The Japanese Goldfish
Level II-Art Lesson 4: The Elephant from Ghana
Level II-Art Lesson 5: The Ukrainian Cat
Level II-Art Lesson 6: The German Nutcracker
Level II-Art Lesson 7: The Sri Lankan Landscape with an Elephant
Level II-Art Lesson 8: Tessellations: Repeating a Pattern to Create Original Art
Level II-Art Lesson 9: The Ukrainian Rooster
Level II-Art Lesson 10: Hiding Butterflies
Level II-Art Lesson 11: The Mexican Mask
Level II-Art Lesson 12: The Russian Fortress–Color Value and Analogous Colors
Level II-Art Lesson 13: The Polish Szopka
Level II-Art Lesson 14: The Mermaid from Denmark
Level II-Art Lesson 15: The Weaving From Thailand
Most of the art lessons are based on an original piece of art (be it a building, an animal, a piece of jewellery or in deed a painting) John has collected on his travels to another culture or country.  And this is where ArtAchieve differs from most art curricula.  Each lesson is steeped in the history or culture from which it was derived.  This makes them perfect for this history based homeschool!
Each lesson includes a brief look into the cultural significance of the art piece; some warm up exercises; extensive instruction on how to actually draw the lesson and suggestions on the finish (usually felt tip pens, paint, soft pastels….you don't need anything special to be able to complete these lessons).  Along with each lesson, John has included lots of cross curricula connections to extend the children's learning.
How Did We Use ArtAchieve?
We completed one lesson per week, choosing lessons which fit around our geographical studies.  Currently, the girls are learning all about Asia, specifically India, China, Japan and Russia.  The obvious choices, therefore, were:
The Sri Lankan Landscape with an elephant:
The Korean Wedding Duck:
The Japanese Goldfish:
and The Russian Fortress:
As you can see, these are works of art to be proud of!
What Did we Think of ArtAchieve?
We are big fans of ArtAchieve.  I love to be able to do art with the girls which naturally ties into our history and geography studies.  I love how simple the curriculum is to use – it really is watch the video and do the art.  But most of all I love how slowly and methodically  John takes his students through the actual drawing process.  Every single line is explained and demonstrated, which means my artistic, perfectionist six-year is able to produce art even she is pleased with, and my non-artistic eight year old is likewise able to produce art she is proud of.  This curriculum works.  It's as simple as that!  I would have no hesitations recommending it 🙂
Connect with ArtAchieve
Facebook: https://www.facebook.com/Artachieve   @ArtAchieve
Instagram: https://www.instagram.com/johnahofland   @johnahofland
Twitter: https://twitter.com/ArtAchieve   @ArtAchieve
Pinterest: https://www.pinterest.com/artachieve   artachieve
Google+: https://plus.google.com/+JohnHoflandartachieve   ArtAchieve
For more reviews of the other levels: