Do your children enjoy listening to stories read aloud?  Mine certainly do!  That is why I jumped at the chance to review Brinkman Adventures?  And I'm so pleased I did!  A9 really struggles to sleep at night, and one thing we have found is that she relaxes if she listens to stories being read aloud to her.  It takes a good hour of reading for her to feel sleepy though, and with four other children it is sometimes difficult to find the time to read to her for that long.  This means that we sometimes rely on recorded stories.  The missionary stories in the Brinkman Adventures Season 4 have been the perfect addition to our audio library, with exciting stories full of healthy goodness.  The perfect thing for my little hyperactive girl to fall asleep to.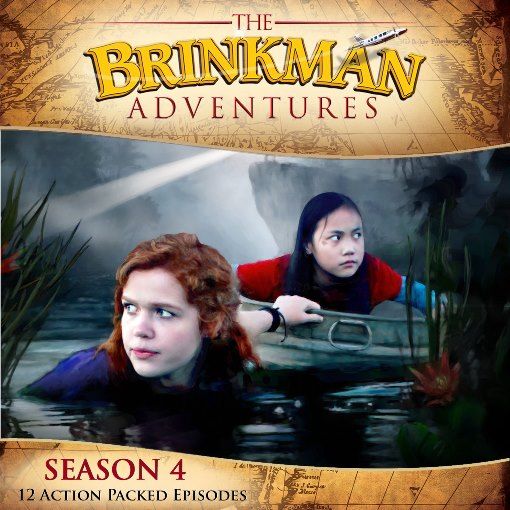 What are Brinkman Adventures?
Brinkman Adventures is a quality Christian audio-drama following the adventures of the Brinkman family.  These stories are inspired by true tales, and contain the missionary endeavours of the fictional Brinkman family, as they live out their faith and seek to bring Jesus to the lost.
You can watch a fun video of the Brinkman Adventures being recorded a few years ago:
Season four picks up where season three left off and include the following stories:
37 A Paradise Lost
38 Remember Nhu
39 Aisha's Fear
40 Heart Song
41 The Crashed Kitchen
42 Crisis In The Congo
43 The Mysterious Palm Feller
44 War of the Raccoons
45 The Five Guys
46 Toughest Man
47 Cambodian Quest
48 What Brings Us Together
Each story is recorded to a high quality with some great sound affects in the back ground.  They are interesting and easy to listen to for the youngest age to the oldest age, and obviously written by people who have lived the essence of each story.
How Did We Use Brinkman Adventures Season 4?
A9 and B6 listened to them before going to sleep each night.  As they were a download, I transferred the files to a memory stick and we listened to them snuggled up in my bed.
What Did We Think of Brinkman Adventures Season 4?
We REALLY liked these stories.  A9 particularly enjoyed filling the sleepless hours listening to them 🙂  The morning after I always had a précis of the latest adventure.  I also noticed her occasionally linking something she struggled with to the stories, which just goes to show how much they sunk in to my very distractible child.
Remembering Nhu was of particular interest because my youngest twin writes furiously to highlight the selling of children into slavery today.  Cambodian Quest revisits this theme, as we learn about a young girl sent to 'Nhu's House' to keep her from being sold to pay her family's debt.
Difficult situations abound in these fast moving stories, but one thing is for sure – God is at the centre of each and every story, and it is He who triumphs over evil, again and again.  The fact these are based on true life makes each episode that much more powerful.
It is hard to find positive, interesting, faith building stories in today's world of fast entertainment, but the Brinkman Adventures Season 4 hits the mark!
Connect with Brinkman Adventures
Read more reviews of the Brinkman Adventures Season 4 by clicking on the icon below: