Over the past few weeks my youngest daughter has been trying out Fun-Time Phonics!™ Software – 2-PCs Win Download which is part of the Reading, Writing, and Arithmetic Before Kindergarten!™ software bundle from The Critical Thinking Co.™.  The Critical Thinking Co.™  has lots of information about the importance of preschool academics and this bundle helps the young pre-schooler to learn reading, writing, addition and subtraction all before they reach kindergarten age.
What is Fun-Time Phonics?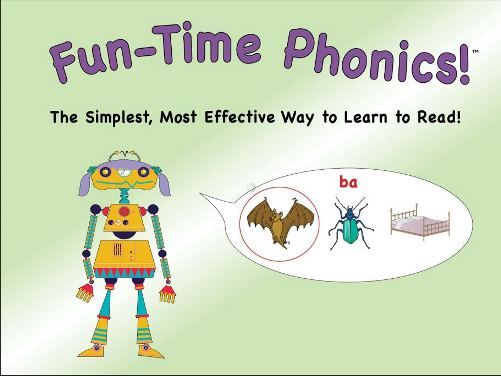 Fun-Time Phonics is a beginning phonics program aimed at Pre-K to 2nd Grade, which contains 128 lessons.  These lessons incorporate the following topics:
Phonemic Awareness

Beginning and ending sounds:  The child is asked to listen to the beginning or ending sounds of a word and then click on the picture which has the same sound.
rhyming: The child is asked to match the pictures which rhyme
putting sounds together: The child is asked to choose a picture which contains the two sounds mentioned
short vowel sounds: The child is asked to choose a picture which contains the three sounds mentioned (one of those sounds is a short vowel sound)

Alphabetics

short vowel letters: The child is asked to pick the word which makes the short vowel sound.  The second set of exercises concentrates on what the short vowels look like as letters
consonants and co-articulation: This section focuses on the consonent sounds and letters when they are combined with a short vowel

Reading first words
How Did We use Fun-Time Phonics?
B5 completed a couple of lessons a week throughout the review period.  I sat with her, but to be honest she definitely could have managed to do the lessons by herself.
What did we think of Fun-Time Phonics?
B5 did not enjoy this program.  She quickly tired of the repetition within the lessons and throughout the topic.  She is reading simple words already, so the disinterest may have been because the program did not stretch her.  I believe this program would suit a young non-reader, as its spiral approach begins at the start of phonemic awareness and progresses slowly and methodically until the child can read most three letter words.  Our problem was that B5 was already reading three letter words easily.  I have written down some of the advantages and disadvantages of this program so that you may see for yourself whether it would suit your child or not.
Advantages
It is colourful and attractive to look at
Can be used for multiple students
Sections can be repeated allowing for lots of practice, useful if your student is struggling with a particular topic
The child works at their own pace
Teacher/ admin page allows for easy tracking of a student's progress
The student can use it independently, or alongside their teacher/mum
No prior knowledge of phonics is required.  The program really does start at the very beginning.
Disadvantages
Very repetitive (obviously this could be an advantage but it wasn't for B5)
Some of the sounds even I struggled to hear.  This could be the difference in pronunciation (UK verses US), but my daughter really struggled to hear the sounds she was otherwise familiar with which compounded her disinterest
Connect with the Critical Thinking Company:
Facebook: https://www.facebook.com/pages/The-Critical-Thinking-Co/46128092293
Google+: https://plus.google.com/114500823774999703181
Pinterest: https://www.pinterest.com/source/criticalthinking.com/
Do pop over and see what the rest of the crew had to say about this and other products offered by the Critical Thinking Company (just click on the banner below):