Over the past few weeks my seven year old, my recently turned five year old and I have been studying Jesus' birth and ministry using a rather unusual study from Grapevine Studies.  We were asked to review the New Testament 1: Beginner John to the Apostles and have been merrily stick-figuring our way through the Bible ever since!
About Grapevine Products


Grapevine produces resources to either stick-figure your way chronologically through the Bible or to choose from a variety of topical studies: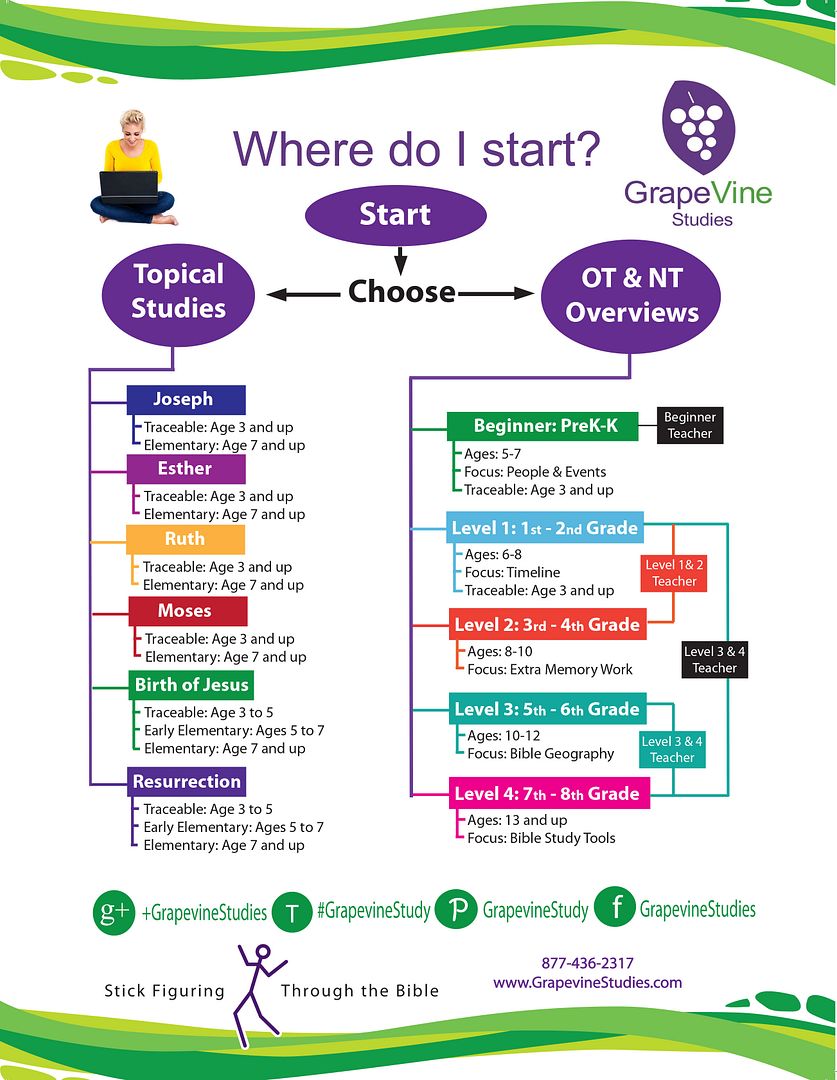 I chose the beginner level which is for ages five to seven, with a traceable one to use with my then four years old.  The New Testament Overview can be used as very short lessons each day, or as a longer lesson once a week.  This gives you about twelve weeks worth of work.  We chose to do it each day.
Our Experience Using Stick-Figuring
I downloaded the two versions alongside the teacher's copy, grabbed one of our trusty Message Bibles, some sharpies, a white board and we were set to begin our adventure of stick-figuring our way through the New Testament:
I was new to the concept of stick-figuring, and I must admit, I approached it gleefully as if I were the five year old!  It's a fun concept, drawing simple stick figures to illustrate the truths of the Bible.  The girls were certainly enamoured by it and got stuck in immediately:
The lessons were set out in a very simple and easy to follow format, with a portion of Scripture to read out, with simple questions to discuss and, of course, suggestions for the stick figures, which I drew on the white board to help A7 with hers:
We came up against our first problem when A7 drew the pictures in the wrong box!  They were easily enough changed, and she did not make the same mistake twice!  B4 found her work much easier because she had traceable stick figures, so knew exactly what she needed to do:
In retrospect, I probably should have begun A7 on the same traceable pictures as this whole concept was so new to us all:
The teacher book contains answers to the questions as well direct examples of what each stick-figure picture should look like.  I drew these pictures on the white board, although made it clear they didn't have to be exact replicas 🙂
Our Thoughts About Stick-Figuring Through The Bible
Pros:
It is an open and go curriculum bar the initial printing, which I did lesson by lesson.
It requires no planning on behalf of the parent.
Though not fully scripted, it offers a very parent friendly method of delivering Biblical education.
It is useful for teaching different age levels the same material, in fact it is so simple to teach you could have your older children teach your younger ones.
There is a lot of flexibility in the lessons so digging deeper is an easy possibility.
Available in both ebooks and printed books for those of you who prefer to hold a proper book (hohum…)
Drawing aids retention of the lessons and lends a 'hands on' effect to the curriculum.  If you have a child who perpetually has 'ants in their pants' syndrome (we have one), the drawing element allows them to forget said ants for a short time 🙂
There are many free sample lessons which would be a useful and frugal way to try before you buy
The company is run by some of the loveliest people.  Before sending me the links Dianna personally visited my blog and left a lovely email concerning her visit.  I am certain dealing with Grapevine Studies would be a very pleasing experience.
The company's curriculum is doctrine free.  It is a simple Bible study aid into which a parent can inject their own doctrinal beliefs.
Cons:
The only real con I could come up with was that the studies were a touch on the easy side.  I can only speak about level one and of course this is for the very youngest ages, but the questions were simple recall ones.  To be honest this was easy to overcome by deeper questioning and discussion.
The very fact the stories needed to be drawn meant this could not be a snuggle curriculum.  Knowing my younger two are my last littles means that I take every opportunity to snuggle, and for me this was the clincher.
So whilst I thought this was a fabulous curriculum and I can tell it would be a successful way to study the Bible and retain information, I won't be using it past this review period.  I like my snuggle time with my babies as I read the Bible to them.  It is a special time for them to cuddle Mummy and learn about their Father in Heaven.
Facebook: https://www.facebook.com/GrapevineStudies/
Twitter: https://twitter.com/GrapevineStudy
Pinterest: https://pinterest.com/GrapevineStudy