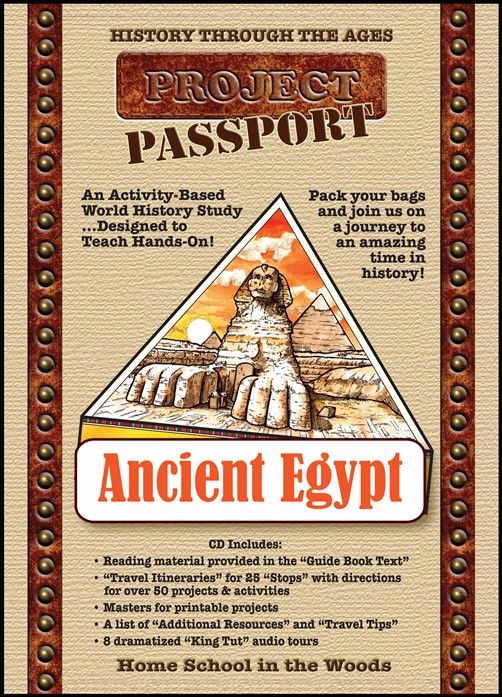 What is HISTORY Through the Ages Project Passport World History Study: Ancient Egypt?
HISTORY Through the Ages Project Passport World History Study: Ancient Egypt is the brain child of Amy Pac and her family run company Home School in the Woods.  The concept is a good one.  The student is given everything he or she needs to travel on a virtual trip to Ancient Egypt.  It cleverly incorporates all the travel ideas, from passports to suit cases and post cards to the *stops* the child makes along the way; everything is themed to encourage the student along on their journey.
This is an incredibly detailed and comprehensive study on ancient Egypt which incorporates the needs of all types of learners.  Cleverly built into each 'stop' are opportunities for reading, writing, listening and creating lots and lots of hands on projects:
Children will create their own scrap-book and lap book of their travels, which I am certain will be looked over and enjoyed for many years to come.
How Did We Use Project Passport: Ancient Egypt?
Week One was spent collecting resources and photocopying all the sheets we needed for the first few lessons.  As I have one child who is VERY easily distracted, I also made the decision to cut everything which needed to be cut and basically have everything organised in their 'Scrapbook of Sights' so, for them and me, it would be grab and go.  This took FAR longer than I anticipated.  We were well into week two before we even started on our journey around Ancient Egypt.  Being someone who usually plans her own units, I was finding this very time-consuming.  That said, if the quality of the downloads were anything to go by it might very well be worth it.  In fact, just pulling everything together, before we had even started learning, I could feel the excitement building up in me:
I had planned on moving quickly through the 'Stops' or lessons, but once I started printing I could see that this was not going to work.  It was too big a curriculum to be rushed through, and it was definitely one to be savored.  I am notorious at changing curriculum to suit myself and I tweak everything.  This time though I felt led to read all the instructions and use 'as is'.  I tell you, my mother would be so proud!  I don't read the instructions for anything.  I might speed read to find any info which I think might be pertinent, but I honestly never read through anything as well as I did this.  And I'm so glad I did 🙂
It was with pride I began the course with the little ones.  I had collected books from around the house and really felt excited to go into something so organised!  Yes, it had taken work on my behalf and used up precious time, but looking at the glee on my little ones' faces I just knew it had been worth it.
At first, my goals for this study was to do one stop each day, this then decreased to one stop per week, but after seeing the sheer amount of information in each stop, and having read the guide, I decided to take it slowly and to do it properly.  I already had an enormous amount of resources pertaining to the Ancient Egyptians, having done an extensive unit on them years ago with my older ones, and to be honest I always hoped I would use them again.  Amy Pac, the author of Home School in the Woods, had made it clear that her curriculum was to be used to suit your family and that there wasn't any right or wrong way of doing things.  This is very freeing for a parent to read, because they don't then feel they have to do everything, or alternatively, if they are like me, they can use Project Passport as a spring-board for further study.
What Does Each Stop Consist of?
Each stop begins with the Guide Book Text and a separate Travel Itinerary.  Both are downloadable PDFs and can be printed or transferred to an Ipad for easy reading.  I printed out everything as I have older children who use our portable devices.  The Guide Book Text contains the historical information required to understand the chosen projects.  Each stop focuses on one aspect of life and times of Ancient Egypt.  The Travel Itinerary contains everything you need in order to complete the stop, including download and printing instructions for each of the projects as well as directions for use.  A full and detailed scope and sequence can be found on their website as well as a sample download.
Stop 1 was mainly about preparation for the rest of the stops.  I downloaded and printed the girls the following:
A Travel log and a passport each:
A 'Scrap Book of Sights' for each of them:
All the printables they would need to complete their 'Snapshot Moments in History' Timeline which include timeline figures and extra fun stickables:
The maps and map icons they would need to complete the mapping work during their next stop:
And a fun postcard rack filled with lots of postcards which would be read throughout the trip:
Stop 2 was also primarily about 'laying the foundations' for future stops.
From the Guide book text we learnt about how important the Nile was to the beginning of the flourishing ancient Egyptian society; we also learnt about the first settlers to Menes, the apparent Pharaoh who united upper and lower Egypt.  In addition we listened to the MP3 audio entitled Touring Down the Nile.  We also found additional information in some of the extra resources which were recommended by Amy.
We completed the timeline activities:
And did some mapping activities as indicated in the Travel Itinerary.
The girls received mail from Menes.  A8 read it out loud to B6 and I, and then both girls drew a picture on the front of their copy:
I downloaded, printed and assembled the 'Kemet Chronicle' newspaper, which the girls would be creating throughout their trip:
The girls each dictated and then copied their own dictation entitled 'Nile River Floods its Banks!', 'Upper and Lower Egypt Combines!' and they also enjoyed completing an advertisement for 'King Tut's Tours'.  So much fun!
And finally they completed an activity showing how upper and lower Egypt were united:
What Did We Think of Project Passport: Ancient Egypt?
I think this is the most comprehensive and interesting curriculum I have EVER seen on Ancient Egypt.  It has been lovingly and creatively designed by Amy and her family.  I love that it ticks all the boxes for kinesthetic learners, auditory learners and visual learners as well as being straightforward enough for the average mother to use (!)
I have one peeve which is that there is an enormous amount of printing and cutting to do to complete the program as it is meant to be done.  It took me hours, albeit I was doing the cutting and compiling as well as the downloading and printing, and I was doing it for two students.  It would obviously take a shorter amount of time if your children were sharing the cutting and compiling load.  I think the amount of prep required could put a busy parent off.  But, and I feel this is a very important point, it is worth every penny spent of the numerous packs of card you will need, and the time printing and cutting copious amounts of paper and card.  It is worth it.  Really.  All the activities blend together to create a stunning product.
I think the downloading and printing could be made a little easier by having the Guide Book Text and the Travel Itinerary as a complete PDF, and in fact all of the activities available as one download so that for a parent, who wishes to do all the activities, could press print and then go and do something else whilst it is printing, rather than having to download and print each page separately.  This would have substantially cut down the time required on prep work.
All in all, this is an excellent product for both parent and child.  Once the prep work has been done it really is a grab and go curriculum, with everything you will need to have an incredible adventure in Ancient Egypt!
We will be putting this to one side now until the summer, when we will be doing an in depth study of Ancient Egypt.  The children are very disappointed they can not continue with it now….and, really, there is no better praise than that 🙂
Connect with Home School in the Woods
Facebook:  https://www.facebook.com/homeschoolinthewoods
Pinterest:  https://www.pinterest.com/hsinthewoods/
Google+:  https://plus.google.com/b/109711152019235885312/+Homeschoolinthewoods
Twitter:  https://twitter.com/HSintheWoods
The Homeschool Review Crew have reviewed various different HISTORY Through the Ages Project Passport World History Study including The Middle Ages, Renaissance & Reformation and their newest title Ancient Greece.  Home School in the Woods is also currently working on an Ancient Rome HISTORY Through the Ages Project Passport World History Study:
Do pop over and see what others think of this comprehensive curriculum: