My eight and five-year old just love learning languages and, whilst their knowledge is fairly basic so far, I am always on the look out for curriculum to feed this hunger.  So imagine my delight at being chosen to review the Educator's Spanish Collection by Whistlefritz!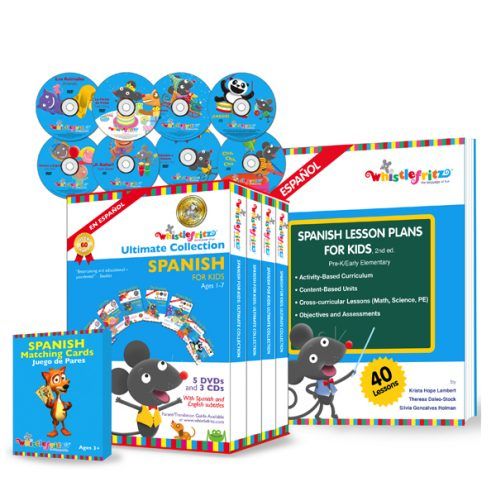 I was particularly excited because I was going to be sent an actual product-in-hand package!  As an international reviewer, this is rare – so thank you very much Whistlefritz for gifting me with your excellent Spanish curriculum!
What is the Educator's Spanish Collection?
The Educator's Spanish Collection contains five DVDs, three audio CDs, a pack of matching flash cards and a thick book containing lesson plans for forty lessons.  Each lesson is scripted so the parent knows exactly what she (or he) is supposed to say.  For me, as someone who has never learned Spanish, the lesson plans were a God-send.  I don't usually like scripted curricula but I would not have been able to be an effective teacher of Spanish without it 😉
You are encouraged to check over the curriculum and use it however it would work for your family.  I popped on a DVD straight away, knowing A8 would be glued to it.  She adores learning different languages and was very excited to be able to begin immediately.
Whilst she and her sister happily watched away, I re-read over the Frequently Asked Questions and the Tips for Parents.  I have to be honest, it took me a while to get my head around exactly what I needed to do.  I think this is because Spanish is not something I am strong in at all and I don't feel confident teaching it.  That said each lesson is so detailed, and each follows the same formula, that I soon began to think that this was maybe something I could do!
To illustrate how this program works, I thought I would lay out one of the lessons so you can see just how comprehensive this curriculum is, and just how simple it is for a non-Spanish speaking parent to use.  This is lesson 6: Collage de figuras (Shape Collage).  Each lesson is begun with a description, a lesson goal, lesson objectives, the vocabulary the children will learn during the lesson and a list of materials needed to complete the lesson:
In this case I needed to photocopy the coloured shape flash cards, a collection of different sized shapes and a sheet of card:
Each lesson is scripted and tells the parent exactly what they need to do.  Firstly there is review of a concept which has already been taught, in this case colours.  It is seamlessly done by cleverly using the new lesson to review the old.  For example, Lesson six teaches shapes and reviews colours, so the flash cards are not just of shapes but of coloured shapes.  For the purpose of the photo, I had A8 going over the colours using the flash cards with her younger sister.  The parent then introduces the new concept, the focal point of the lesson, which in the case of Lesson Six is shapes.  The flash cards were used once more to introduce the girls to each of the shapes:
A8 and B6 have been doing lots of shape-focused geometry in their maths so this was a perfect cross curriculum lesson for them 🙂
Next up was the making of a shape collage.  The girls enjoyed sticking their coloured shapes into a collage, naming each colour and shape before sticking:
I then had them give a brief presentation on their collages.  It was here they had to remember the Spanish for 'This is a red square' (Este es un cuadrado rojo):
After we had finished the lesson, the girls popped on one of the DVDs to watch until lunch was ready.
As this is an immersion program, we allowed the girls to watch the DVDs whenever they wanted to, in addition to when advised to for a lesson.  In the same vein, the girls (who share a room) listened to the CDs every night after tucking down.  It was a lovely way to finish the day.  Both the DVDs and CDs were a great way for the girls to hear focused vocabulary being pronounced in an authentically Spanish way (unlike my very stilted awkward sounding way) as well as being an effortless way to immerse them in the Spanish language.
There is also a pack of matching cards.  We simply used these as a fun addition to their studies.  They contain 25 action words and are used to reinforce the vocabulary taught in the lessons, DVDs and CDs:
Whilst this is a curriculum for younger children (Aged 4-7), I knew my eight year old would just LOVE it and I was right.
How Did We Use the Educator's Spanish Collection?
My younger girls, aged six and eight, did a lesson a week, with lots of reinforcement each day.
What Did We Think of the Educator's Spanish Collection?
We all loved it.  As a non-Spanish speaking parent, I found it surprisingly easy to use, although I'm certain my pronunciation was not what it should have been.  The girls enjoyed the learning process, especially A8, who really loves learning foreign languages.
I personally very much appreciated the scripted nature of the teacher lesson plan book.  I literally could not fail so long as I followed the script.  And we all loved the hands on activities described for each lesson and enjoyed how well these activities reinforced the lessons.
The girls LOVED the videos.  They are 100% in Spanish with no English at all.  This means that any mispronunciation by me was quickly rectified in the videos 😉  And, of course, these videos aided in the whole immersion experience, and required absolutely zero effort from me.  In fact these videos gave me time to snuggle my two younger girls, close my eyes and learn some Spanish by diffusion!
The CDs were another tool which supported the goal of the Educator's Spanish Collection of learning a language through immersion.  My girls fell asleep to these CDs each night, and as my office is right next to their bedroom, I too learnt how to sing 'Old MacDonald had a farm' in Spanish and even learnt the interesting fact that Spanish dogs 'woof, woof, woof' very differently to English ones 🙂
For me the test for a successful curriculum is whether or not we will continue to use it after the review period has concluded.  And I can say with confidence that we will be using Whistlefritz in the coming year.
Contact Whistlefritz
Social Media links:
For more reviews of Whistlefritz including

Educator's French Collection

click on picture below: