Teaching writing is my nemesis, which is why I was thrilled to receive a digital copy of The Power in Your Hands: Writing Nonfiction in High School, 2nd Edition from Writing with Sharon Watson.  We were blessed with both the teacher's guide and the Student's Guide: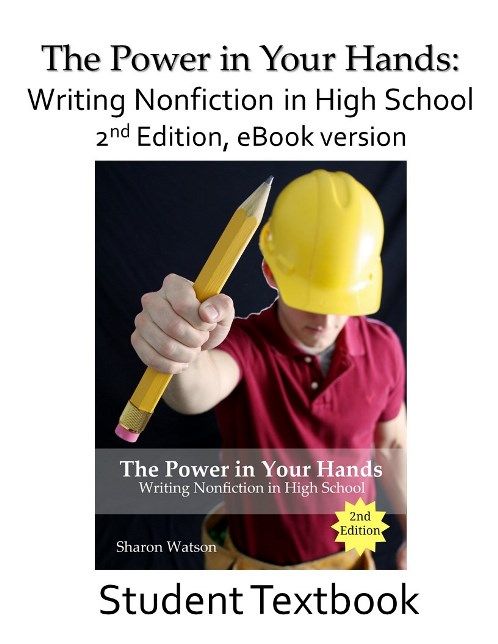 What is The Power in your Hands?
This is a writing curriculum for high school students which focuses on helping teens write non-fiction essays and reports.  Containing one hundred lessons, and instructions to complete 21 pieces of writing, this is one curriculum I know I will be using to the very end.  I've included the contents page so you all know just how thorough this course is:
I will be using this as part of my goal to prepare my older three children to sit their English Language IGCSE.
How Did We Use The Power in your Hands?
We are currently studying the Victorian era in our home school and having perused this curriculum I knew exactly how I would incorporate it into their summer schooling.  My main goals this summer were writing related, and whilst we will be continuing up to Christmas with both our Victorian studies and The Power in Your Hands, I knew we could cover quite a lot of this curriculum.  We used this every day.  Although this is absolutely a curriculum aimed at teaching the student independently, I did not use it that way.  My teens are 14 and 13 and as yet not quite high school level.  We aimed at one chapter per week, giving between two to three hours each day to The Power in Your Hands.  I photocopied one chapter at a time and gave a copy to each of my three older children and one copy for me.  I read out the text and the exercises within the text were done either in rough together or verbally together.  The actual writing exercises I changed, allowing the children to choose their own topic to write about, the only condition being that it was something to do with the Victorian age.  This meant we would be able to cover both the writing program and their history topics in one fail swoop!  Instead of simply writing the essays, I thought it would be fun to create a Victorian newspaper out of them:
As the contents page above shows we only managed to learn about writing persuasively as persuasive writing took up the first eight chapters.  We had such fun though.  The children wrote persuasive essays geared towards persuading the reader that Queen Victoria was a good ruler, mother and wife; they attempted to persuade the Victorians that workhouses were atrocities which needed to be shut down, as well as persuading modern-day people that Victorian work houses should be brought back!
I was given an essay which attempted to persuade your average Victorian household to purchase a 'pleasure phone' (the Victorian equivalent of a mobile phone), another which was written to persuade Londoners to visit the Brighton Aquarium, as well a very comically written essay trying to persuade all Victorian womankind to buy the newly invented 'Electric corset' which promised to cure almost all ills, including female madness!
The children did a great job creating a newspaper out of their essays, and we will continue to add to it until we finish our Victorian Studies.
What did we think of The Power in Your Hands?
We all enjoyed it very much.  I think the children enjoyed the 'fun' aspect of it, and in general were enthusiastic to complete all the exercises.  One of their favourites was to write an essay using all the things Sharon had told them should not be in a persuasive essay.  We all laughed when they were read out, especially Charlotte's, whose essay was brilliant even though she had purposefully broken all the rules.  As Lillie said, her twin is incapable of writing a bad essay!
I appreciated how easy it was to read aloud, and how simple it was to change slightly in order to incorporate our Victorian studies and I really enjoyed being able to work through the curriculum with my older three.  It was also interesting to see the difference between their first and fourth essay, and how much just a few weeks of using this curriculum was improving their writing.
We will definitely be using the curriculum over the next few months as we finish up our Victorian era studies, and thus complete the makings of a complete issue of the Victorian Times newspaper.
Social Media Links:
Facebook:  https://www.facebook.com/WritingWithSharonWatson
Pinterest:  https://www.pinterest.com/writingwithshar
For more reviews from the rest of the crew, click on the image below: