You all know just how much my youngest daughter loves anything arty, and I just knew ArtAchieve  would suit her down to the ground.  Out of the five levels offered, I chose the Entire Level I for her.  I was rather excited about this art curriculum, and couldn't wait to dig in!
What is ArtAchieve?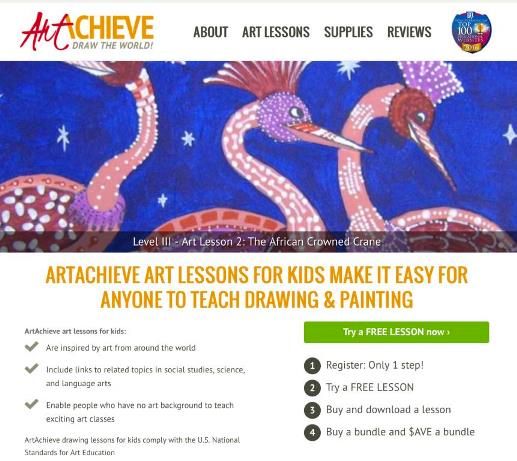 ArtAchieve is a wonderful curriculum created by homeschool father John Hofland.  There are five levels each with between 8 and 14 lessons.  These can be bought either separately or by the level
But this is not just an art curriculum.  Oh no.  With John's extensive knowledge of the countries which make up our incredibly diverse world, he has designed a learning experience which encompasses so much more than art.  Most of the art lessons are based on an original piece of art (be it a building, an animal, a piece of jewellery or in deed a painting) from another culture or country.
My focus will be on level one.  Level one consists of the following lessons:
The Czech Cat
The Hungarian Insects
The Haitian Gecko
The Dragonfly from Ecuador
The Chinese Dragon
The Owl from Bali
The Kitenge Tree Wall Hanging from Tanzania
The Plate from Napal
Four Suns with Four Faces
The Sheep from Wales
Each ArtAchieve lesson begins with the following choices:
The powerpoint is well worth perusing through as your child is able to gaze at the pictures for as long as they wish and ask any questions:
The warm up page and the print out of the drawing are essential to complete the lesson as taught in the video.  We downloaded these images and printed them out before starting:
Before beginning the lesson I would recommend taking a look at the cross-curricular activities John has suggested to go along.  These are very well thought out and relevant additions to the study, and include any or all of the following:
Social Studies
Science
Literature
Geography
Writing
Music
And links to other art lessons
These are great suggestions and in some cases have kept us on one project for a couple of weeks.
The main art lesson is taught by John on video, and he teaches to the child or student.  He lists the supplies the student requires as well as describing everything he hopes the student will learn throughout the lesson.  After wards he gives a short history/science lesson about the focus animal.
Before beginning the art lesson, John goes over the guidelines of his lessons, encouraging his students to listen to music and to draw in silence.  He also makes sure the student understands that they may or may not like their drawing, but not to be discouraged.  The student is guided to draw only to his or her own expectations and not to those of others.
John also gives a clear list of supplies and they are generally supplies one would find in the average home school house 🙂
Each lesson begins with a warm up exercise:
after which instructions follow regarding how to draw the animal:
and then options for colouring it in or painting it:
How Did We Use ArtAchieve?
I have to be honest and say we went to town a bit 🙂  We began with the first lesson, which is available for free here.  B5 had SO much fun.  We even visited a charity shop and managed to get our hands on a cat dress up and some face paints!
They were perfect for a week long lesson learning about cats.  We also splashed out on the book and film which John mentioned in his extra curricular extensions, and learnt about the Czech Republic at the same time!
Oh my, B5 enjoyed this so much!  In between reading TS Elliot's poems, watching the musical production of cats and learning about the Czech Republic we also did the actual art lesson :).
First we watched the lesson video together all the way through, before watching segments of it one bit at a time.  We stopped to do the warm up and then the actual drawing of the cat.  Whilst B5 was working on her drawing we had the music from Cats playing in the back ground:
The drawing occurred before our charity shop find.  But once we had found the dress up, B5 insisted on wearing it every time we did the lesson.  In fact she kind of lived in it all week long 🙂
After drawing the Czech cat, B began to colour it in using the suggestions John had made in the video:
She was so proud of the end result, as was I:
So far we have completed four of the projects and are half way through the fifth, and she has enjoyed every single one.  In fact, if she knows we are doing art the next day, the last thing she says before going to sleep is 'Thank you Mummy so much for my art lesson tomorrow,  I can't wait!'  And I feel like the best Mummy in the world.  Yes, this art curriculum is all that!
Our other completed projects:
What did we think of ArtAchieve?
We loved it, pure and simple.  I was highly impressed by how well John taught B5 to draw.  Drawings I would never have thought her capable of seemed easy to her after watching the lesson video.  This is a fantastic art curriculum, especially for younger children.  We will definitely be using some of his other lessons as go-alongs to our history and geography work.
Visit ArtAchieve at their Social Media Sites
Facebook: https://www.facebook.com/Artachieve
Twitter: https://www.twitter.com/artchieve  @artachieve
Pinterest: https://www.pinterest.com/artachieve/
Google+: https://plus.google.com/+artachieve
Instagram: https://www.instagram.com/johnahofland/