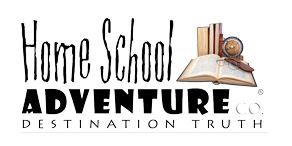 I have always intended to do something special for each child, possibly around their graduation from homeschool, so I jumped at the chance to review Celebrating Manhood: a rite of passage guide from Home School Adventure Co.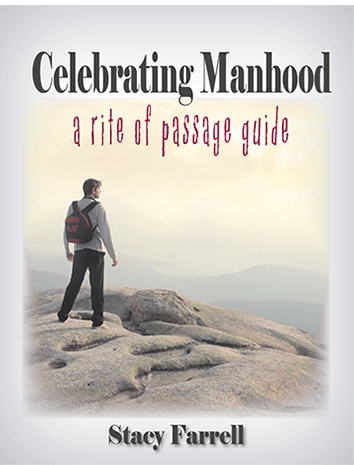 What is Celebrating Manhood?
Celebrating Manhood is a short booklet containing all you need for a celebratory night of fun for your coming of age son.  And the idea is a good one, for it rejoices in the fact that your son, once a small boy, has matured into a man, ready to take his place in the world, as someone who can impact the people around him.
It is a 37 page booklet which begins with an introduction and a quick look at how the author, Stacy Farrell, has held this evening with her son.  Next is a blue print suggestion for your own evening and contains ideas for invitations, food, activities, blessings and using the question cards provided.  The blueprint is all contained on one page, so it is not extensive or exhaustive, but instead gives a simple outline which is easily reproducible in your own home.  After this there is an invitation template, which is very helpful if you intend to use the aforementioned blue print.
The rest of the booklet contains three pages of 8 question cards (six if you include the backs of the questions), the first page contains the cards entitled 'I remember when…', the second 'If only I had known…' and the third 'What I value and respect….':
These are to be printed out and kept for the night to help encourage discussion and learning through the mentorship of men who have already traveled the path to adulthood.
And lastly it contains a lovely poster that you can print out for the evening or for your son to pop up in his room:
How Do We Plan On Using Celebrating Manhood?
We had always planned to mark Thomas' graduation from our homeschool in some way, and the fact that he is hoping to graduate early next year meant that I was very interested in this product.  That said, as you all know, I am a tweaker extraordinaire, and I have to admit that we will not be using this product as is.  I don't think that is a fault in the product, it's just that I have so many of my own ideas which I would like to incorporate, I'd be lying if I said I would be following their blue-print in its entirety.
For example, Stacy recommends that only other men be at the party, and whilst I completely understand her reasoning behind it, I would be very sad indeed if I were not included in my only son's celebratory evening to mark his arrival at adulthood.  Thomas and I are incredibly close, and he said it best when, after reading the booklet, he turned to me exclaiming that I had to be there!  He felt that I had been there through all the tricky times, the hormones, the transition periods between childhood and adulthood, and I had played an enormous part in traveling alongside him as he journeys through his teen years, I had to be there.  As did his sisters.  And his Grannies.  Yes, of course he wanted his Dad there, his Grand dad, a couple of good male friends (as well as one female one) and a father of said female friend who had helped him through his physics IGCSE.  They all mattered to him, and he felt strongly that he wanted each one of them there to share in the celebration of his life thus far.
The one thing I would definitely be including in our evening is the questions.  I can honestly say I would never have considered using probing questions as the spring-board for deeper discussion.  These question cards are an inspiration!  There are 24 cards in all, containing thoughtfully constructed questions which will no doubt help the men attending really dig deep in order to hand nuggets of truth and experience to my son.
What Did We Think of Celebrating Manhood?
I struggled a little in finding the right words to use to express how we felt about this product.  On the one hand I felt incredibly blessed to have been chosen to review a product like this.  It was just up my street!  It moves me greatly when companies give their customer a peak into their heart and desires for their family, and I believe this is what you get here.  This is a well thought out concept, which has brought me close to tears as I plan our celebration for my own gorgeous son.  And for this I thank Stacy and her mummy heart.  I also LOVED the questions – they are genius and a perfect opening for encouraging older men to share their heart.  They are not too intimate that the men (or in deed the women) would feel uncomfortable answering, yet are meaningful enough to elicit responses which will further my son's journey into manhood.
It is important that this next point does not invalidate the loveliness of this product, but my review would not be complete without mentioning that of the 37 pages, only a fourth contain usable material.  Now big is not always better, and long does not automatically equal quality, and I think this applies here.  There are seven pages of hugely helpful and high quality information for you to use, especially if you wish to use it as blueprint for your own celebration.  It takes an enormous amount of planning off your shoulders, as well as giving you the confidence to host a successful evening.  However, I was surprised by how few pages there were.
I think any family who wishes to host a similar evening would benefit from reading this booklet.  It would particularly suit parents who wish they could pull off a Celebrating Manhood evening for their maturing son, but maybe don't have the confidence to try.
Connect with Home School Adventure Co.
Twitter:  https://twitter.com/HomeSchoolAdven  @HomeSchoolAdven
Facebook:  https://www.facebook.com/HomeSchoolAdventureCo
Pinterest:  http://pinterest.com/homeschooladven/
Google+:  https://plus.google.com/b/115241518288669984312/+Homeschooladventure
YouTube: https://www.youtube.com/user/HomeSchoolAdventure
More Reviews!
The rest of the crew have been busy reviewing this product as well as the following products, all available from Home School Adventure Co.
Do pop over and read some of them by clicking on the banner below: