Over the past few weeks my littlest two girls and I have been blessed to review the kindergarten and grade three level of  Rainforest Journey from EdTechLens: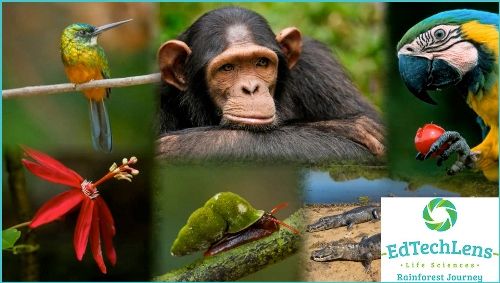 I practically begged to be given a chance to review this product because the little girls and I  (with help from Granny next door) spent last summer learning about South America, with the main project focusing on Rainforests, specifically the Amazon Rainforest.  As I was concurrently teaching five other children about Shakespeare, I rather felt I had let the little ones down a bit.  And this was a chance to redeem myself!
I don't say this lightly, but this is probably the best curriculum I have ever used!  My girls and I love it, and they are begging to do it every single day and believe me, it is no hardship to do just that.  There is an enormous amount to the Rainforest Journey, so bear with me, whilst I try to do it justice 🙂  My focus for the purposes of this review will be on Grade Three, with occasional reference to Kindergarten level.  All the screen shots will be from Grade 3.
What is EdTechLens' Rainforest Journey?
It is essentially a science program, but I would argue it is so much more than that.  The focus, as the title suggests, is the Rainforest, primarily the  Tambopata Park Reserve, usefully situated in the Amazon Rainforest of South America (I know, perfect right?).  EdTechLens' Rainforest Journey incorporates reading, observation, discussion and critical thinking, along with primary source material, stunning photos from the area as well as videos actually taken in the Tambopata Park Reserve, interviews with scientists who work in the jungle and the written diary of the mother and son team who have traveled to this area of the Amazon solely for the purpose of this curriculum.  And you know what?  That's not all!  The lovely people at EdTechLens have also provided beautiful print outs, review questions, end of unit assessments and, my favourite, the end of unit hands on activities.
Rainforest Journey Units
There are 34 lessons which are contained within five separate units.  Each unit has between 2 and 5 main topics, which I have included in brackets:
The Big Picture of the Rainforest (Looking Inside the Rainforest, Water and Light)
Adapt or Die (Structural Adaptations, Behavioural Adaptations and Genetics)
Animals (Invertebrates, Amphibians and Fish, Reptiles, Birds and Mammals)
Plants and Fungi (Plants and Fungi)
Ecosystems (Ecosystems)
Each unit includes the lessons, vocabulary, illustrations, assessments and the end of unit hands on activities:
Rainforest Journey Lessons
The lessons are incredibly easy to navigate.  My seven-year old can do so on her own, and even my five-year old can manage with a small amount of help.  That said, I always sit in on the lessons because they are so good, even for this 41-year-old.  Each chapter is divided into lessons, which you simply click on to view:
Each lesson contains beautiful, vivid pictures.  These pictures are an important part of the curriculum.  They are not there to simply be admired, but to be really studied and discussed.  This is always one of my favourite parts because I love hearing my children's thoughts on what they were seeing.  A7 reads the leading title sentence before clicking on the icon for more information.  This can either be read or there is an option to hear it being read out loud.  This was perfect for my otherwise intelligent seven-year old who finds the concentration required to read very hard.  Often, there is a second icon to click for enrichment information:
There are several pages in each lesson:
Some contain a video:
Some give you the option to watch an entomologist at work or to read an interview with a biologist, like this one with 'Canopy Meg':
There are short interviews, which are perfect for my daughter to read.  It should be noted that every page is available in PDF form, so if you wanted your child away from the screen it is perfectly possible 🙂
Sometimes there is a diary entry to read, with pictures to discuss.  A7 really enjoyed these and was always looking out for the next entry so she could find out what happened next:
At the end of each chapter, there is a colourful print out which sums up everything your children (and you) have learnt so far (in this case the layers of a rainforest):
I printed the girls out their own copy to pop into their rainforest folders.
Lesson Reviews
At the end of each lesson there is a print-out which reviews everything the child has learnt in the lesson.  Before giving it to A7, I would ask her to narrate everything back to me.  As she did so, I was able to check her understanding and also type it out for her to use as copywork during her daily writing time.  She gave some really good narrations, which I think reflect the quality of the teaching by EdTechLens:
After she has narrated all she has learnt, I give A7 the end of lesson review print-out.  These are simple activities, very much based in the lesson it is reviewing:
At this point I would leave A7 at my desk to re-watch and re-read any of the lesson she needed to in order to fill out the review page.  She loved this time of independence and it was at this point I realised just how amazing this curriculum actually is.  A was fully engaged throughout, having none of the concentration issues I usually see:
B5, who was working at the kindergarten level, also had a review sheet to fill in.  She found these fairly simple and was able to do all they asked.  B was asked to draw pictures and fill in missing words (which were handily placed underneath).
Extra Activities
The lessons are so well thought out and are a natural spring-board for lots of lovely hands on activities.  When we finished Chapter 1 of Unit 1, we made up our rainforest puzzle which clearly showed the layers we had learnt about, and the children were both easily able to point them out.  Afterwards we replicated it in the form of a rainforest diorama:
It was wonderful for the girls to be able to recreate a model of the rainforest based on all they had learnt:
One of the photos included with the curriculum was of lots of butterflies and this prompted a visit to the local tropical butterfly garden.  It was a fabulous opportunity for the girls to point out to their Daddy everything they had learned as well as excitedly pointing to the buttress roots (and remembering the name!) of one of the trees there (which had been in their very first lesson):
I just stood to the side smiling happily 🙂
Unit Assessment
At the end of each unit, there are three assessments to use:
Assessment of Depth of Knowledge: These are multiple choice questions which A found very easy.  Each question contains one or more visual cues:
Open-ended Assessment: These questions do not give any hint of the answer.  There is a space underneath in which the child can type their answer:                                                                                       
Factual Assessment: This is another, more in-depth, assessment using multiple choice again, but without photos this time:
End of Unit Activity
Although we have been doing this almost every day, we have only just finished Unit one (both chapter 1 and 2) and completed the assessments.  This means we have only just got started on the end of unit, hands-on activity provided by EdTechLens.  Can I just say how incredible these are?  B5's Kinder one is a simple 'draw a picture', and maybe could have done with including a simple water experiment, but A7's third grade activity was so good.
Mystery Vacation was the title of the activity and once I had translated the American word 'vacation' to the English word 'holiday' she was very excited and begged to hear all about it.
The first learning objective was to understand the difference between climate and weather.  Once she had got that I told her that we would be going on holiday, only we didn't know where we were going.  I gave her one of our holiday bags and told her to pack for the holiday.  Now she is seven and basically would pack everything but the kitchen sink, regardless of the weather report or indeed the climate 🙂
Anyway, the premise of the activity is that the parent shares progressively more details about two possible locations for our holiday, which could be anywhere in the world.  A7 was exposed to data (and I allowed her to look at the graphs included in the teacher files rather than create one herself).  From this data (and the corresponding graphs) she and I discussed possible locations.  Clues are then given to the student who must align the set of clues with the correct set of data.  She figured out fairly quickly that we were going to the rainforest for our hols!  This is as far as we have got, but the next activity will be for A7 to create a travel brochure for her destination.
Each end of unit activity includes the following:
Engage
Explore
Explain
Elaborate
Evaluate
The parent is guided through each part effortlessly and the whole activity (which looked quite complex at the start) seamlessly comes together for both parent and child.
The People Behind EdTechLens
Because we have immersed ourselves in this curriculum, I have had a few questions to ask the staff at EdTechLens along the way.  They have been a delight to work alongside, going above and beyond to make sure I had everything I needed to fully enjoy their curriculum.
Optional Enrichment Materials
There is an extensive science blog which EdTechLens writes especially aimed at the children, as well as the book 'All in a Rainforest Day' written especially as an accompaniment for the curriculum.
Unfortunately, this was not available in England so I was not able to buy it.  We did have lots and lots of rainforest themed resources though, left over from our summer learning, which did the trick nicely!
Apologies for the long review but I really wanted to do this curriculum justice.  I highly recommend it.  Its beauty is in its simplicity, and yet I can tell deep learning is occurring for both my 5 and 7-year-old.  I'm just sad it was not around when my three teens were in elementary school, because I am certain they would have loved it too.
Connect with EdTechLens:
Twitter:  https://twitter.com/edtechlens
Facebook: https://www.facebook.com/edtechlens
Pinterest: https://www.pinterest.com/edtechlens/
Google +: https://plus.google.com/+Edtechlens
LinkedIn: https://www.linkedin.com/company/edtechlens