Let's Go Geography is a year long geography curriculum written by homeschool mum turned primary school teacher, Carol Henderson.  With all the experience she has under her belt schooling first her five children and then the pupils in her class, you can bet Carol knows what she is talking about!  The video below gives an introduction to how Let's Go Geography works:
What is Let's Do Geography?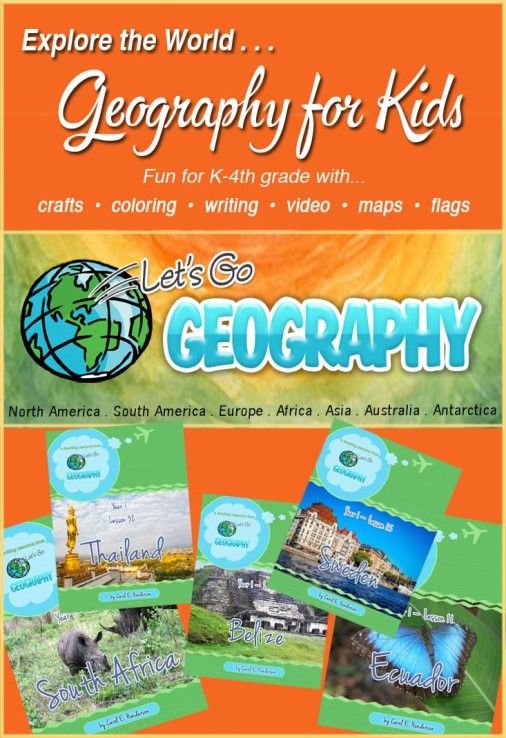 Lets Do Geography is a one year geography curriculum suitable for home schools and public schools alike.  The plans are for it to eventually span three years and cover many more countries, but for now the two semester's worth of teaching covers 17 countries per semester.  Semester one's countries are as follows:
With semester two covering:
There is a passport which you can print out which makes the whole geographical experience much funner for the children.  We did not use this, primarily because it was an American passport and we are British 🙂  It would have been nice to see a variety of covers for international users, but we managed absolutely fine without one.
This is a downloadable product, and each week a different country study is sent via email.  It was designed to be studied in order, but all the lessons are available so the user can download any country's lesson to fit in with whatever they are currently studying.
Each lesson includes the following chapters:
Map It:  A variety of mapping activities which may include finding the nearest oceans or the capital of the country in question
The Flag:  The opportunity to create the country's flag, colour it in and then stick it onto a continent map sheet, which will eventually contain the flags of all the countries studied in that continent
The Music:  This is often a link to a youtube video
Let's Explore:  This chapter includes fun facts, famous land marks and sights you might see if you visited the country.  There are informational paragraphs, videos and many gorgeous coloured photos which could be printed out to make a collage, information pages or a giant map.  There are even book selections, and notepages designed with the country in mind, for the child to fill up with all they are learning
Create!  This chapter gives a selection of hands on activities such as colouring in and a featured craft.  The featured craft requires no special materials
What Did We Think of Let's Go Geography?
This wasn't the best fit for us.  When it came down to actually doing it with the children, I was met with resistance.  I think maybe because it was a computer based program which required me to read and then flick to a youtube video and back again.  We are a unit study family and are used to studying things in great depth and therein lies our interest.  The deeper you travel into a culture the more invested you become in it.  Whilst I realise this is an elementary curriculum, it did not delve deep enough to capture my girls' imagination and as such they were not invested in it.   That said, I thought it was a great course and would work very well in a school or homeschool where geography was one of many subjects taught.  It is well thought out, simple to implement and takes very little time to complete.  Whilst it was not for us, I could see many families loving it.
Connect with Let's Go Geography