After years of my older three using Debra's excellent note pages, my two youngest daughters have begun their history journaling journey with pages from the Lifetime Membership available from NotebookingPages.com: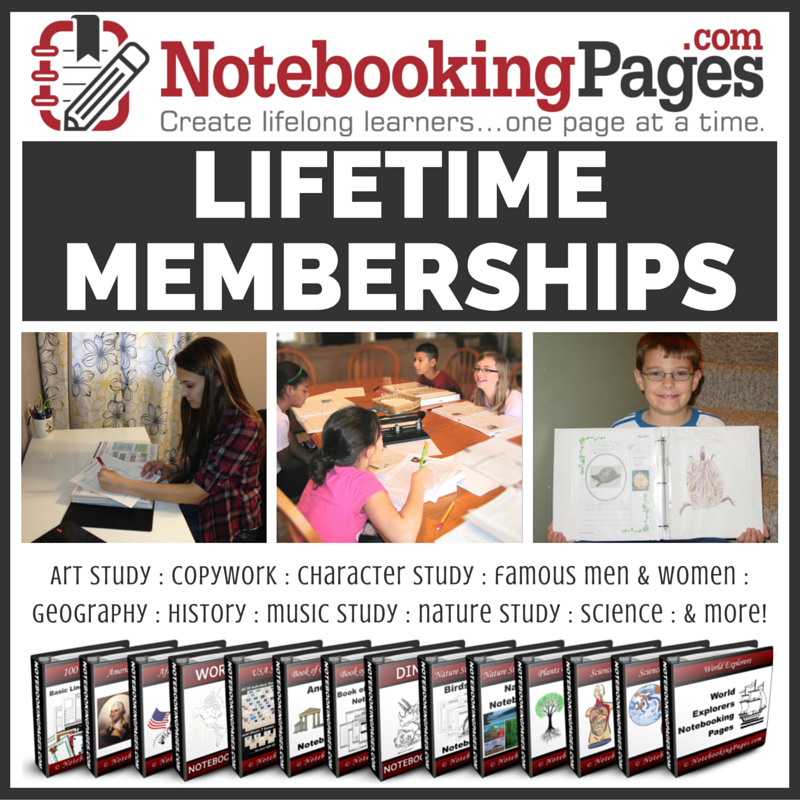 Reviewing the lifetime membership is possibly the easiest review I have ever written!  I have been using NotebookingPages.com for the majority of our homeschool, and even before I became a fully fledged member a good few years ago, I had purchased one or two of Debra's packs separately.  We LOVE notebooking, and we love the blank but themed notebooking pages available on Debra's site.
What is Notebooking?
Notebooking is one of the most flexible and creative methods available to record a child's learning.  From traditional narrations, dictations and note taking to the more modern five paragraph essay, note pages offer massive potential.  We have used this method extensively throughout the time we have been homeschooling.  This is not age specific, topic specific or homeschool method specific.  Recording learning in note pages is a beautiful way to preserve a child's work, and becomes a treasured scrapbook of their home school years.
What is NotebookingPages.com?
NotebookingPages.com is the brainchild of Debra Reed, an experienced home school Mummy of ten.  She has designed set upon set of note pages for the youngest age up.  There is a set for almost every subject under the sun, including:
Bible/Character
Famous People
Fine Arts
Geography
History
Holidays
Language Arts
Science/Nature
These are designed so they can be used in many different ways:
As a simple method of recording a child's learning through his or her writing
As a way to practice the actual mechanics of hand writing
As a memory tool, to test understanding, vocabulary and spelling
To use for copywork, for example quotes, poetry and fine literature
By sticking photos of completed projects, maps, brochures, postcards, articles and pictures from journals, magazines and comics as well as cut outs from old unused books
There are spaces for free hand illustrations as well as notepages which contain beautiful images for the child to colour in
They can be used to plan work using mind maps, Venn diagrams, key word outlines and spider diagrams.
They can be beautified by doodles from the child, illustrations from the internet, stickers or even scrapbooking supplies
They can become the starter page for lap book pieces
We have used note pages in our homeschool for all these examples and more….
How Did We Use NotebookingPages.com?
We have been studying Ancient Mesopotamia for a while now and used the same Mesopotamia themed note pages I had used all those years ago with my older children.  Debra has added to the collection and under the terms of the lifetime membership I have access not only to the note pages available at the time of taking out the membership but also to those Debra has designed since.
What Do We Think of NotebookingPages.com?
We LOVE NotebookingPages.com.  Honestly, there is such a huge variety of note pages to choose from, they are readily accessible and downloadable in seconds.  All the work is done for you, and your children can create a beautiful end product they can be proud of.  All five of my children love flicking through their folders, and showing guests what they have been up to, and we often use their completed note pages for their display boards during their presentations:
All in all, this has been a fabulous addition to our home school and I imagine we will be using them until the very end 🙂
Connect with Debra over on her social media sites:
Facebook: https://www.facebook.com/debrareed.notebookingpages/
Twitter: https://twitter.com/NotebookingPgs