I am a huge fan of the literature e-guides from Progeny Press so I was very excited to have been chosen to review The Bears on Hemlock Mountain E-Guide  for Grades 1-3.  I bought each little girl a book of their own and downloaded and photocopied the guide straight from my computer.  I was ready to go, simple as that!
What is The Bears on Hemlock Mountain E-Guide?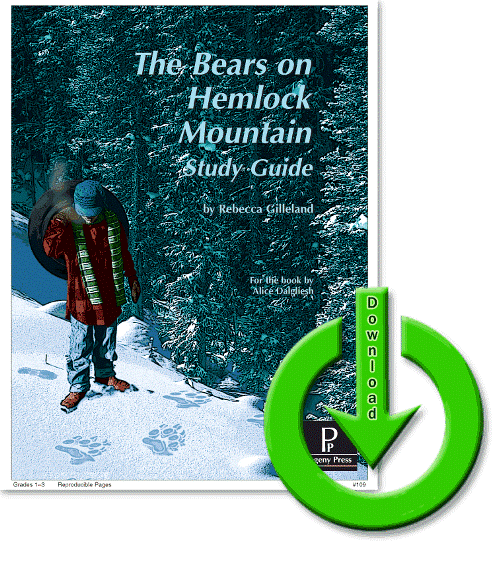 Being a huge fan of Progeny Press guides, I was looking forward to getting stuck in.  The Bears on Hemlock Mountain is quite a thin book yet this is not reflected in the quality or quantity of pages within the guide.  I am always impressed by how thorough these guides are:
As you can see, there is information pertaining to use of the guide, some detail about the author of the book, as well as back ground information, before you read activities and after you read activities.  And, just in case you want to know more, there are suggestions for further study.  These guides are very complete, and some of the best out there.  Yes, I really am a fan 🙂
How Did We Use The Bears on Hemlock Mountain E-Guide?
Firstly, we did some of the pre-activities.  This is one of my favourite parts of the Progeny Press Guides – the pre-read activities and the post-read activities.  This time we looked over some work we had done with tracking animals in the past using one of the books recommended:
B6 and I made some bear shaped chocolates to nibble on whilst we read:
As The Bears on Hemlock Mountain is a fairly easy book to read I decided to buy each of the girls a copy and have them take it in turns to read a page:
The study guide is full of questions to stretch the girls understanding of the text.  There is space for the girls to fill in the answers.  I prefer to go through it orally because I'd rather the time was spent in discussion rather than laboriously writing the answers down.  This is because both my younger girls are only beginner writers, B because of her age and A because of her concentration issues.  Literature is something I want both girls to LOVE, rather than dread because of the writing element.  The study guides from Progeny Press give you that freedom to carry out the work in the best way for your family.
The guides include some after completion activities.  For this book there are suggestions for creative writing, cookie recipes, cookie making and dramatic play acting.  We have the builders in at the moment, who have taken up residence in the entire downstairs of the house.  Cooking was out, as was play acting on account of lack of space, so I created my own fun activity by making plaster cast bear statues and asking Lillie to help them paint them using her craft desk in her bedroom and her paints.  This seemed to work well under the circumstances and finished off our study rather well:
What Did We Think of The Bears on Hemlock Mountain E-Guide?
I really love these guides.  The fact they are an e-book means they can be reused for future children.  The girls loved learning this way.  It felt very easy, joyful and seamless.  I have no qualms whole heartedly recommending these study from Progeny Press.
Connect with Progeny Press
Facebook 
Twitter  
Instagram
Youtube
Pinterest
See What the Rest of the Review Crew Thought:
I have reviewed another product from Progeny Press (Great Expectations Study Guide) which we also loved, so do check out the post by following the link in the picture below: